Minerva Schools at KGI, is an accredited four-year global university program headquartered in San Francisco, California. It offers undergraduate and masters programs whose students attend fully online through Minerva's Active Learning Forum.
The current 4 classes make a total of +600 students from over 70 countries. During their degree, they live in 7 cities — San Francisco, Seoul, Hyderabad, Berlin, Buenos Aires, London and Taipei!.
The beginnings
We have been part of the Minerva partners since 2018, when the first students cohort arrived in the city. Its philosophy and pedagogical approach has always been deeply aligned with Minds Studio principles and ethos, so were keen to know more about it.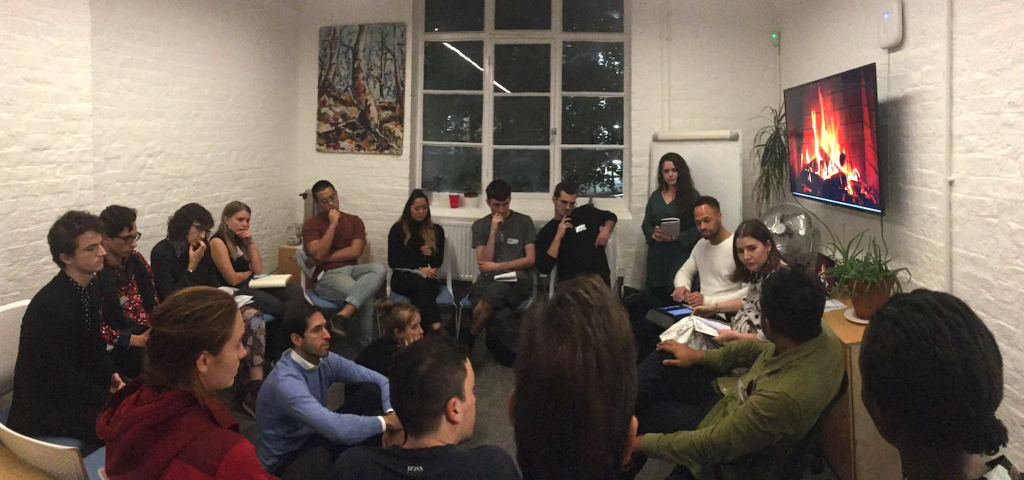 The challenge
In June 2019, Minerva was looking for a partner to design the Experiential Learning Activities in London. Having been in touch since 2018, they trusted Minds Studio to help Minerva's local team. The goal was to increase the number of student activities and engagement while increasing the Minerva partner network size.
The goal
Minds Studio agreed to design at least 5 brand new experiential learning activities. Participants would range from governmental institutions to public or private organizations. Sectors ranged from healthcare or international relations to policy, technology, consulting, finance or creative industries. We agreed we should always be aligned with students interests and career goals.
The solution
In order to maximize student engagement and usefulness for their future career, we started by analysing the 120 Minerva students capstone projects. Once we had a clear picture, we started clustering them in different areas of interest. As students arrive in London during the last year of their program, we primed the goal of generating useful professional relationships. The areas of interest we detected were:
Once we knew the topics we were going to explore, it was time to find the right partners. For each topic or area of interest, we looked for, at least, three people with 3 to 5 years of experience and a continuous learning mindset. This last bit was key for us, as we believe that partners should learn as much as the students from this experience, given the high caliber of Minerva graduates.
We looked at London's top employers, and we managed to find highly talented individuals with extensive experience. Blackrock, Salesforce, Google, Sky, McKinsey, General Assembly, University of the Arts London, were some of the companies represented in the selection. They were very generous with their time, and we would like to appreciate their involvement in all the activities deployed.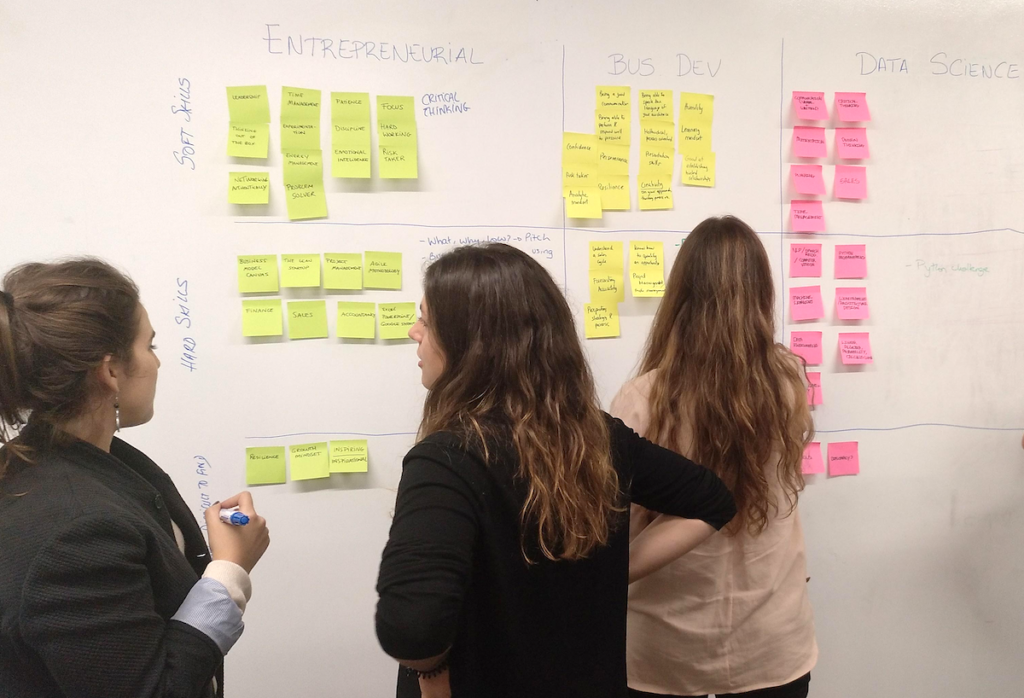 The workshops
What would you have liked to know when you were about to start your professional career? we asked the Minerva Partners at the beginning of a series of meetings with them. We arranged responses in three categories: soft skills, hard skills and rare to find but very valuable skills in their fields.
Once we identified the different skill sets that were valuable to them, we moved into their role as employers. What is the process you (or your company) follow in order to hire a new candidate? We asked them. That question helped us understand the kind of real challenges we needed to prepare Minerva students for.
How can we simulate a hiring process that informs and helps students prepare for their future career opportunities? Was our final question. We listened to their answers and co-created the final version of the workshops with them. Many would actually end up leading them by the end of the semester.
The results
Minds Studio finally created 10 fully designed workshops in collaboration with Minerva local London team. Some of these experiential learning activities included policy analysis under pressure, collaborative software engineering, or iterative product design. The feedback from students was incredibly encouraging.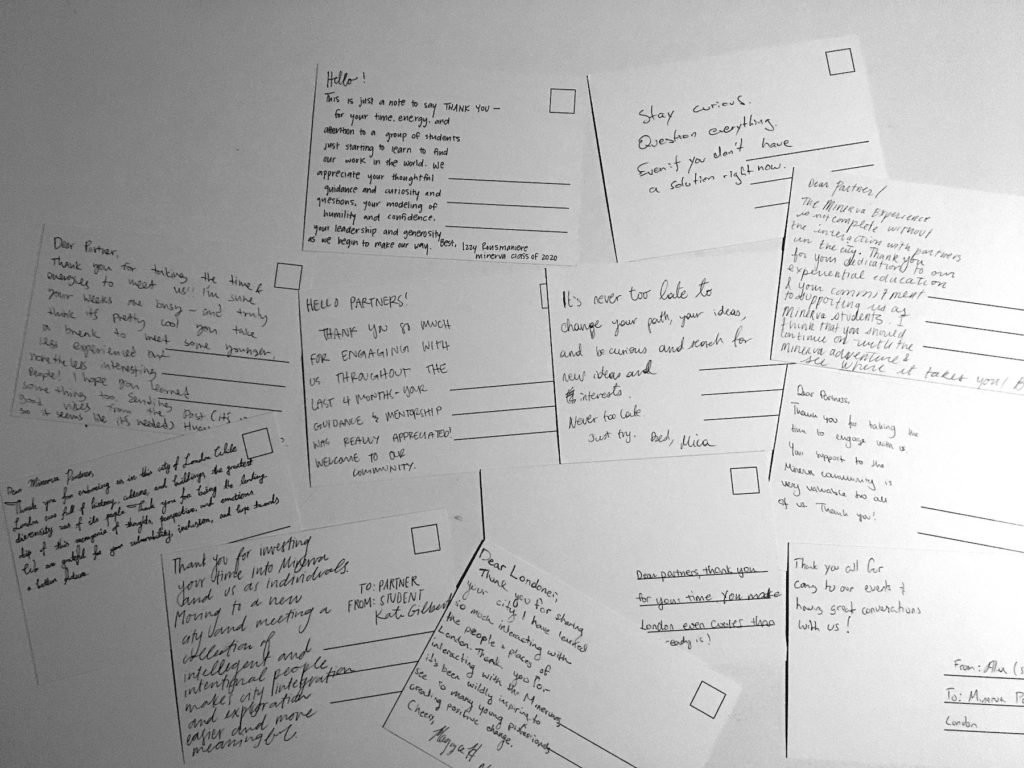 Thanks to the learning experiences that Minerva team implemented (Including pub nights, company visits or sport activities) 35 partners and +100 students bonded. At the end of the semester some of those relationships transformed in friendships, and even some of them became job opportunities.
At Minds Studio, we believe so much in Minerva students potential that we ended up hiring Frances, one of the graduated students. She was the lead designer and manager of the Galileo Family Experience Days in 2020.
We also developed fantastic relationships with other Minerva Partners. So much that,one of them -Elliott Callender-, got involved in developing our UNIR research about the Future of Higher Education.
Learnings
This project allowed Minds Studio to deepen our expertise in workshop design and Active Learning methodologies. It also allowed us to design a Collaborative Learning environment from scratch, involving public and private sectors.
Next steps
During 2020, we have continued exploring partnership opportunities with the Student Life team at Minerva.
We have also developed a communication channel with the Student Affairs team. Given our great experience with them, we aim to detect more Minerva students interested in learning design, to continue learning together.